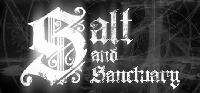 Salt and Sanctuary – PC Digital Download – Steam Weekly Deal $10.79 (all time low price)
WEEK LONG DEAL! Offer ends May 22
Trailer
Metacritic 84 User 7.8
Bought this at launch for PS4 when waiting for Dark Souls 3 to come out. This is probably of all games the most Souls-like I have played in terms of tone and atmosphere. Only difference is that it is 2D. Such a great game. Totally worth $10.79 or more.