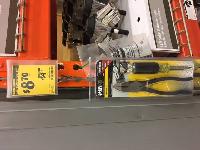 Klein Tools 2-Piece Electrician's Tool Kit Z00008 on clearance at Home Depot B&M for $8.70, normally $34.97. This was initially bundled as a 'Bonus Pack' for Home Depot and appears to be getting cleared out. The kit includes the following:
Klein D213-9NE high-leverage side-cutting pliers ($31.97 individually)
Klein 32500 11-in-1 screwdriver/nut driver ($13.97 individually)
Store SKU is 1002-215-597
Link for reference only:
Klein ToolsElectrician's Tool Kit (2-Piece)
Again, this is a B&M only item and YMMV, so please no TDs if you are unable to locate this in your local store!