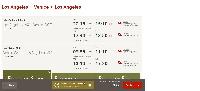 Swiss International Airlines has round trip airfares travelling from Los Angeles (LAX) to Venice Italy (VCE) for $372 including taxes and fees. This makes one stop in Zurich Switzerland.
Travel Availability:
Departs LAX: Oct 29, 31; Nov 1-2, 6-30; Dec 1-7; Jan 9 thru Mar 20
Returns: wide availability thru end of March with minimum 7 day stay
Use dates and book it directly with Swiss for $372 RT price or some people prefer Priceline or Orbitz for slightly higher at $388 RT price.
See samples below.