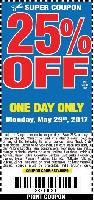 Good for one day only, Sunday May 29th, Memorial Day.
Harbor Freight 25% off Code: 88740589 B&M or Online
Link
Typical exclusions apply. Read the fine print:
Limit 1 coupon per customer per day. Save 25% on any 1 item purchased. *Cannot be used with other discount, coupon or any of the following items or brands: Inside Track Club membership, Extended Service Plan, gift card, open box item, 3 day Parking Lot Sale item, compressors, floor jacks, saw mills, storage cabinets, chests or carts, trailers, trenchers, welders, Admiral, Bauer, CoverPro, Daytona, Earthquake, Hercules, Jupiter, Lynxx, Poulan, Predator, StormCat, Tailgator, Viking, Vulcan. Not valid on prior purchases. Non-transferable. Original coupon must be presented. Valid 5/29/17 only.