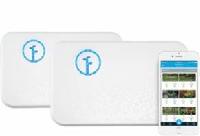 Best Buy has a special offer currently for both Rachio models, $50 gift card with purchase of either.
This effectively drops the price to $150 for the 8-zone and $200 for the 16-zone.
http://www.bestbuy.com/site/promo/rachio-co15306
Just add the Rachio model you want, it should add the gift card during checkout.
If link doesn't work for you, just search Rachio on Best buy site, the promo should show at the top of the page.