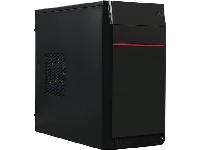 Rosewill SCM-01 Micro ATX Mini Tower Computer Case, Supports Micro-ATX/Mini-ITX M/B
https://www.amazon.com/dp/B01KJL5…izbP0RTB68
I needed a cheap mini tower for a basic micro atx gaming PC and this was the best deal I could find with a front USB 3.0 port.
Tied for lowest price historically on ccc.
Yes it's a cheap case and maybe you're only saving a few bucks, but I wanted to share for anyone else who needs a cheap case right now with Prime shipping.