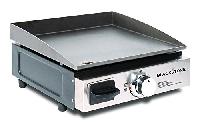 Have been waiting to purchase one of these griddles for use camping and on my boat. Price today just hit the lowest it has been according to CCC at $73.93. Next lowest was ~$90 earlier this year. Griddle gets good reviews and I am looking forward to using it.
https://www.amazon.com/gp/product/B0195MZHBK/
The Blackstone Table Top Grill/Griddle is the perfect stove to bring with you to any event or occasion. 260 square inches of cooking spaces allows you to cook multiple things at the same time! Hate doing dishes while camping?
No worries with this griddle, simply wipe it off with a paper towel after use and be ready for the next meal! Its convenient size makes it easy to bring with you to the park, camping, hunting, or any get together. Easy to clean and remove grease tray keeps cook top clean.
The H style burner provides even heat distribution for optimal cooking across the whole griddle. As outdoor enthusiasts and founders of BLACKSTONE we dreamed of a quality outdoor griddle and/or grill that could cook for large groups and families. In 2005 we made our vision a reality by creating BLACKSTONE PRODUCTS.
We then launched the 36" BLACKSTONE griddle that is still popular for backyard cooking and which brings families and friends together for fun and food. Our spectrum of gas griddles and gas grills are popular for backyard living, a BBQ, recreational cooking or commercial grade cooking.
Since then, the company has expanded dramatically and created a brand new look as well as a large new line of durable rugged innovative and portable cooking innovations including an outdoor pizza oven and the ever so easy to transport and set-up DASH – and our products will last a lifetime.