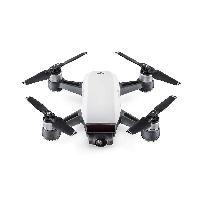 https://www.adorama.com/g/new-dji-spark
Adorama now has the DJI Spark for pre-order.
The basic $499 "standalone" option and the $699.00 "complete bundle" are available. The complete bundle includes a extra carrying bag, prop guards, battery, 1.2 mile transmitter, charging bank, extra props. The extra battery and transmitter cost a combined $200 if purchased separately.
American Express is offering two offers -per card – for spending $250 or more at Adorama.
A. $25 cash back
B. 2,500 Membership Rewards points
I was able to secure the 2,500 MR point offer on two of my cards. I called and had them split the charge between the two cards. Since I needed to exceed $249.99 per card, I opted for 3-5 day shipping for $8 more. I earned 5,000 MR points, if you have two cash-back offers from Amex, your true cost shipped would be as low as $457 with 3-5 shipping.
I've already received the two emails from Amex that I've "used the offer", so the charges have already hit and are registering even with a phone pre-order. Expected ship date was late June according to the Adorama agent.
Side note:
You can currently transfer from Amex MR points to JetBlue at a 1:1 ratio during the offer period. The 5,000 points I earned can be transferred to JetBlue and be used for a flight around $87.