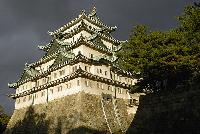 Air Canada is offering flights from San Diego to Nagoya for $390. Good from July through October. Must book on Orbitz to get this fare. I included a sample search. The other sites including Air Canada charge $476. Ex San Diego this is a great fare.
https://www.orbitz.com/Flights-Se…ode=search
Nagoya is on the bullet train line between Tokyo and Osaka/Kyoto. You can get to either city easily from Nagoya.