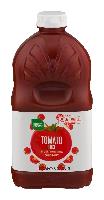 Hey guys,
I didn't see this posted, so I thought I'd share.
Free Smart Sense or Harvest Classic Tomato Juice (32 Oz. to 46 Oz.) After Coupon @ Kmart B&M

Limit 1 Per Customer
Quantities Limited, While Supplies Last
Coupon must be loaded today, Friday, 05/26/17, to your associated Shop Your Way Rewards account.

NOTE: After loading, the coupon will be valid for a period of 3 days, from 05/26/17 to 05/28/17.
NOTE: The coupon is valid on the following eligible KSN #'s:
Instructions For Retrieval:
1. Download the Kmart App for Android or IOS devices.
2. Open the App.
3. Scroll Down until you see the banner that says " Free Is Fun – Friday Fix" (see attachment). It should be directly above the Bluelight Special Banner.
4. Click the "Get Coupon" button on this banner.
5. Sign-In To Your Existing ShopYourWay Rewards Account or Create A New One to load your coupon.
6. Go To Your Local Kmart Store and Provide Your SYWR Membership Card or Phone # to redeem your loaded coupon.
OPTIONAL: You can also print a copy of the coupon and verify that it was loaded correctly. It will be located HERE under "Clipped Coupons" once it is loaded.
Kmart Store Locator