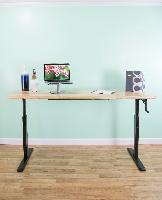 A great way to use the eBay promo code P20MEMDAY. A ton cheaper than Amazon, Monoprice, or anywhere else. Pairs very well with an Ikea countertop. I almost bit on Monoprice's frame for $197 with their memorial day coupon which is $225 on Amazon. But I just got it for $159 today!
If any one of these sells out, just do an eBay search for them, possibly other sellers will have it.
Deal will end when the eBay coupons ends at midnight tonight PST.