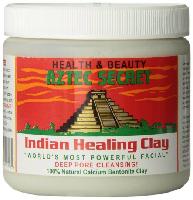 Never seen it this low and it'll last forever. I think vitaminshop has it for a little above $6, but the store near me has been out for a couple moths!
About the product
World's most powerful facial
Deep pore cleaning with 100% natural calcium bentonite clay
Does not contain: Additives, fragrances, animal products
Important Note: Do not leave clay mask on skin longer than 5-10 mins for delicate skin; this will prevent redness/drying
Important Note 2: Please read and follow all manufacturer directions before using. Slight redness of the skin is normal and will disappear in about 30 minutes after use.