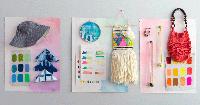 Creativebug: 1 month of free Do It Yourself (DIY) Classes at Amazon
Creativebug
For a Limited time get 1st month FREE! Join our online learning community of makers for your daily dose of inspiration and expert guidance. With unlimited access to our entire library of award-winning video classes, Creativebug fuels your creative lifestyle. PLUS, every month you are subscribed, you also get to choose one class to keep in your library forever (up to $24.95 value).
Subscribe with Confidence
Amazon will be your first point of contact for customer support, and we won't share your credit card information with anyone else. Subscribe with peace of mind that you are in control.