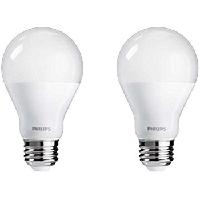 Good morning everyone,
Didn't see this posted, so thought I'd share.
Amazon is offering the Philips Hue White A19 60W Equivalent Dimmable LED Smart Bulb, 2-pack (this is the warm-white color, around 2700K I believe) for $25.50 after 15% off Prime Savings; ($12.75 per bulb).
For comparison, Amazon has the 3-pack for $40, which is $13.32 per bulb). And a single bulb is $14.99.
Note: This does require you to have a Hue Hub.