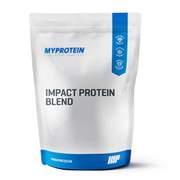 MyProtein is having a mystery discount sale that seems to have about 30% off on their Impact Whey Isolate when using the discount code GUESS. Shipping is Free with $70+ orders otherwise it is $4.99.
YMMV – Actual final price is determined by how many items/total purchase amount. It may be different by a few cents.
Prices are as follow:
2.2 lbs Unflavored – $18.53
2.2 lbs Flavored – $19.87
5 lbs Unflavored – $39.72
5 lbs Flavored – $41.71
11 lbs Unflavored – 62.90
11 lbs Flavored – 66.21
This is the lowest price for Impact Whey Isolate from MyProtein (except for promo mistakes). Please note that this is for their Impact Whey ISOLATE and not their Impact Whey Protein. If you need to know the difference, please read this .
As for flavor recommendations, I personally like Salted Caramel, Strawberry Cream, Mocha, Natural Vanilla. Chocolate Smooth or Brownie was good but not great. Unflavored got very specific uses and it does have an off bland flavor. Banana was too artificial for me.