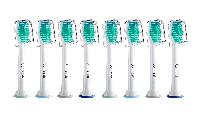 Product Title:
Sonifresh Toothbrush Heads,Replacement Toothbrush Heads For Philips Sonicare DiamondClean FlexCare EasyClean Brush Handles, 8 Pack
Product Description:

High quality Generic Replacement Brush Heads made with end-rounded US Dupont Tynex Nylon Bristles for offer exceptional cleaning of tooth surface and deep between the teeth.
The Sonifresh toothbrush heads are proven to reduce gingivitis up to 100% better than a manual toothbrush,effectively removes plaque without irritating gums.
The Sonifresh Replacement Brush Heads Compatible with Philips Sonicare FlexCare, EasyClean, HealthyWhite, Diamond Clean and Kids Brush Handles. (Complete list in Description below)
Blue indicator bristles fade halfway so you know when to replace your brush.
Deal Info:
Current Price: $18.04
Promo Price: $7.98
Promo Code: JS6T2JKC
Product Link:
https://www.amazon.com/dp/B01NAN5SSM
Photos Attached