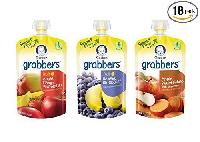 Gerber Graduates Grabbers Squeezable Fruit & Veggies Variety Pack, 4.23 Ounce Pouch, 18 Count as low as $9.56 with 15% S&S and 30% off coupon.
https://smile.amazon.com/gp/produ…vpc_slickd
*I understand that some people are opposed to feeding babies pre-made baby food, but this post isn't for those people. Please do not turn this into a parent-shaming thread.
The coupon is multi-use. I used it 3x and it is still giving it to me as an option.