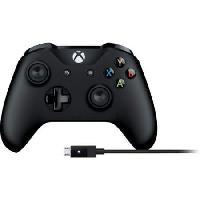 https://www.walmart.com/ip/Micros…/157642789
Gaming Pad
Xbox One Wireless Controller
Bluetooth Technology
Operating Range: Up to 19.7 ft
3.5mm Headset Jack
Platform Supported: Xbox One, PC, Xbox One S
Buttons & Controls:
For reference, http://brickseek.com/walmart-inventory-checker/?sku=157642789
https://www.walmart.com/store/271…=157642789
* As I did with the previous Green and orange controller. I checked on brickseek and through walmart inventory checker to see if it showed in stock at local walmarts. I asked the associate at the electronic to look by SKU: 157642789: Rather then wondering around hunting for it. If they don't have it, then they don't have it. Don't be mean. Price mark was $60 but price rang up at the register came up at clearance price of $30. Hope that helps.