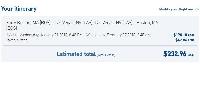 JetBlue Airways have round trip airfares travelling to and from Boston (BOS) and Las Vegas (LAS) for $233 nonstop.
Limited travel availability. This is what I have but check your desired dates if it's not listed below. Availability comes and goes.
Departs BOS: Jan 29, 30, 31; Feb 3, 6, 7
Returns: Feb 3, 7, 8, 10, 13, 14
Departs LAS: Jan 29, 30, 31; Feb 3, 13, 14
Returns: Feb 3-7, 10-13, 19-22, 24-28
Use dates and book it on Expedia or JetBlue directly. Bundling hotel with airfare will save money. On another note, we have an saving an extra 10% off already reduced rates of up to 40% off. Keep in mind, most Las Vegas hotels now tack on a daily resort fee which is NOT part of the rate you will see.