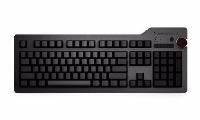 Das Keyboard 4 Ultimate Mechanical Keyboard with Blank Keycaps – $149 + Free Shipping
Dedicated media control with oversized volume knob
2-Port USB 3.0 SuperSpeed hub
Instant sleep button
Anodized aluminum top panel
104-key US layout
Footbar to raise keyboard also functions as a ruler (actually has been pretty useful)
Both Brown and Blue Cherry MX Switches available. I recommend browns if you're in an office environment.
Great keyboard, I cannot recommend it enough. I'm currently typing on one with brown switches.