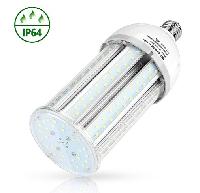 SHINE HAI LED Corn Light Bulb, 3500Lm E26 Base 5000K Daylight White
Price after coupon: $11.99
Code: FWHS2JH3
Link: https://www.amazon.com/dp/B06Y1ZHFMZ
Consumes 35W, has a bunch of small LEDs all over it. It's big and heavy, like really heavy. Best used for garages or other places that need a lot of light, and where you don't care how this lightbulb looks like but only have one socket available. It's super bright and that is the reason I have got it in the first place.