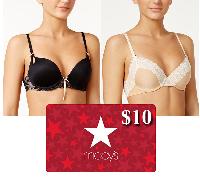 Add choice of 2 Heidi By Heidi Klum Bras priced at $14.99
Add 2-Pk Burts Bees Lip Balm priced at $5.80 (this will qualify you both for the rebate, and earn you free shipping on your order.
Go to cart
Enter promo code SUP25
Total will be $25.78
Before checkout, follow instructions to earn a $10 Macys eGift Card with Slickdeals Rebate:

and follow instructions to activate rebate link. For orders over $25, receive a $10 Macy's eGift card via Slickdeals Rebate after you follow instructions in rebate (some exclusions apply, see offer for details). You must click through our Slickdeals rebate link to make your purchase, anywhere else will invalidate the rebate. Limit 3 per household.
We launched the Slickdeals Rebate program to make some of the great deals on our site even better. It's a way for us to create more "fire" deals for our community and save them more money. We have a 95% approval rate on submitted rebates, but our goal is to get that number to 100%. If you follow the instructions on the rebate offer page and pay close attention to the bullets below, you'll guarantee a successful claim and get us closer to our goal.
Make sure you are logged into Slickdeals.
Whitelist Slickdeals in AdBlock.
Make sure cookies are enabled in your browser.
Complete your purchase in one browsing session.
Make sure we are your last click to the merchant. No cash back or rewards sites.
Did you know we have paid over $2 million in rebates to Slickdeals members? Visit to learn more about how to submit your rebate successfully.