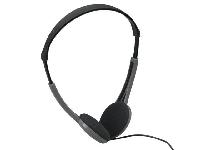 $0.52 + Free Shipping for Premier Members, otherwise shipping adds ~$11.83
Nice little pair of headphones that you won't mind losing or breaking(or giving to someone that breaks things alot).
Link : https://www.newegg.com/Product/Pr…gnorebbr=1
Next best price for these is $5 via Ebay so if you got premier these are a very good deal.

Impedance: 30mm.
Drivers: 32 ohms.
Magnet: Anistoropic Ferrite.
Film: 0.016mm.
Coil: 13.6mm.
Sensitivity: 100 dB +/- 3dB.
Channel Balance: 3dB.
Rated Input: 40mW.
Maximum Input: 100 mW.
Frequency Response: 20Hz – 22,000Hz.
Plug: 3.5mm Straight Plug.
Cord Length: 4 ft.