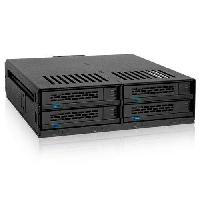 B&H has the icy dock 4 2.5" drive bays in one 5.25" cage for $43.50 with a $20 MIR, and free shipping. Tax only for NY/NJ folks.
https://www.bhphotovideo.com/c/pr…_sata.html
4.5 stars based on 2 reviews.
Newegg has the same one for $.40 more:
https://www.newegg.com/Product/Pr…-_-Product
4/5 eggs.
Rebate form (good through 1/31)
https://static.bhphotovideo.com/F…D_DOCK.pdf
Rebate can work on a bunch of different models, but this was the one I was looking for. No personal experience with it yet, sorry.