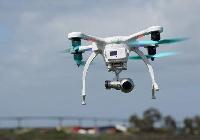 EHANG GVRS2 Ghostdrone 2.0 VR iOS & Android Models
https://electronics.woot.com/offe…ec_dly_img
Obtain spectacular bird's-eye views with this EHANG Ghostdrone 2.0 VR set. The AI drone camera captures high-quality 12-megapixel stills and Ultra HD videos that make real-time viewing through the head-tracking VR goggles an engaging experience. The intuitive smartphone-tilting operation of this EHANG Ghostdrone 2.0 VR set simply requires avatar control via the EHANG Play app.
Elevate your view of the world.
See the world like you've never seen it before with the EHANG VR Goggles.
Shoot 4K Ultra HD video
For visually stunning footage. Capture 12.0MP photos. The f/2.8 lens with a 93-deegre field of view delivers crisp, clear images.
The Head-tracking EHANG VR Googles
Lets you see through the eyes of the GHOSTDRONE 2.0 for a truly immersive experience with video transmission built directly into the googles.
Control the drone from up to a half mile away
The built-in battery provides up to 25 minutes of flight time per charge. Automatic return in case of low battery or lost communication.
A drone controlled entirely by your phone
The GHOSTDRONE mimics the movement of your phone.
EHANG Play App on your Apple iOS or Android device
Enjoy the Avatar Tilt Control Mode, Companion Mode and Waypoint Mode.
Durable materials and safety features protect against damage
The self-tightening propellers are mounted on high-efficiency downward facing brushless motors to increase stability and weather resistance for better flight performance.