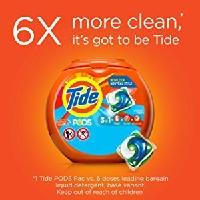 Tide PODS 3 in 1 HE Turbo Laundry Detergent Pacs, Ocean Mist Scent, 72 Count Tub
Amazon says this is exclusive to Prime members so it will be nice if some non-prime member can confirm that it's true.
https://www.amazon.com/gp/product/B00HZ6WSY8
Clip the $3 coupon.
The price will drop to $10 during the checkout.
All the other scent are selling around $18 so this seems to be a good deal to me.