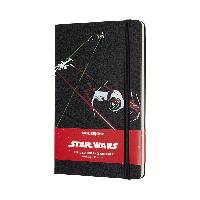 Amazon has as an Add-on Item: Moleskine Star Wars Large Ruled Notebook Ships (Hardcover, 5" x 8.25") for $5.71. Shipping is free with qualifying purchase of $25 or more (items shipped/sold by Amazon) for Prime Members.
Moleskine Star Wars Ships Large 8.25" X 5" Ruled Hard Cover Notebook $5.71.
Hard Cover with Limited Edition Theme X-Wing vs. Tie-Fighters
Rounded corners
Elastic closure
Paper: 70 gsm, acid-free, ivory, lined
Themed stickers
Regular Moleskine notebooks are usually around $10-$20.