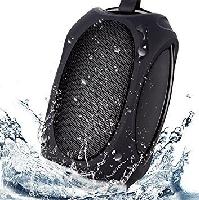 I was looking for two bluetooth stereo outdoor speakers that had to be waterproof and water resistant since I live near the beach.
Specs:
2x 3watts Dual Driver
16 Core magnetic Amplifier
ABS Cover and Silicone Rubber Case
Water proof
Splash proof
Shock proof
1000mAh Polymer Battery
Enhanced Bass Resonator
Bluetooth 4.0
HighPariting Speed
Low Power Consumption
Priced at $29.99 & Free Shipping
On Amazon | Buy 1, get a discount on selected products also 4 Applicable Promotion(s).
Select Get 1 of the ZENBRE Speakers for $9.99 offered by ZENBRE Direct. Press Redeem changes to Redeemed . Locks in the price to $9.99 with Free Shipping.
https://www.amazon.com/dp/B00ZKZEPR4
Note: They are also available in 3 colors (black), (red) and (blue)
Here's a youtube video on this product as well: https://www.youtube.com/watch?v=YIPjEPRM1gI Gives you idea of how it sounds and looks etc..