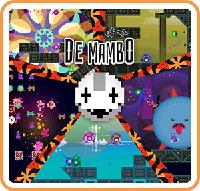 Nintendo eShop
De Mambo (Nintendo Switch Digital Download) $2
De Mambo lets 1-4 players engage in Mambo Combat (Smash your friends/enemies in this 2-4 player dance of destruction). Grab a Joy-Con and charge your one button and release at different times to do three different attacks (poke, spin and fire).
Shadow Bug (Nintendo Switch Digital Download) $4.94
You are the overpowered ninja hero Shadow Bug! Save your home forest from the evil factory by slicing monsters to pieces. Adventure through beautiful and twisted landscapes full of action and adventure as the ultimate ninja.