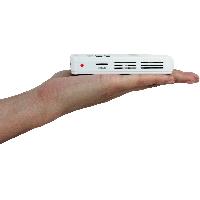 Since the expired, Walmart is still pricing matching at $104.99
https://www.walmart.com/ip/LED-PI…Z/46151552
If you do any sort of cookie decorating or cake decorating then you will already know all about this projector as its widely used for helping with tracing patterns, images, or text onto desserts.
Fit this projector in your pocket
0.4-lb. lightweight design is 0.8" thin to ensure easy portability. The built-in lithium-ion battery allows on-the-go operation.
LCoS technology
Offers efficient light processing with 25 lumens white brightness.
Vibrant color technology
Accurately reproduces shades across the color spectrum.
15,000-hour LED lamp
Ensures lasting use, and the lithium-ion battery provides plenty of power for viewing or giving presentations on the go.
960 x 540 native resolution
Through the mini HDMI input. The microSD card slot and USB input allow you to view 960 x 540 qHD content from your memory card or directly from your compatible Apple® iPhone or Android device.
5" – 60" viewable screen size
Offers a clear view for everyone in the room.
0.6′ – 5′ projector distance and 1.5:1 throw ratio range
Reproduce wide images in their correct proportions.
Included 1W speaker
Produces quality audio, so you can enjoy movies and more on the go.