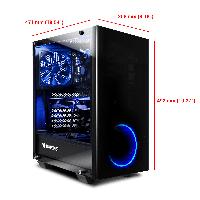 iBuypower, as part of their Anniversary Sales, offers Anniversary Intel Z370 i7 Gaming Desktop, customized by me @ $1643 with coupon code SAVE100.
SAVED LINK:
http://www.ibuypower.com/Store/An…g/W/584714
SPEC:
Windows 10 Home 64 Bit
Thermaltek View 21 2x Side Tempered Glass Chassis
Core i7-8700K
Corsair Hydro H60 120mm Water Cooler
iBUYPOWER 1 RGB Lighting Strip
ASROCK Z390 PRO 4 / ASUS PRIME Z390-P / MSI Z390-A PRO
16GB DDR4L (2x 8GB) 3000 MHz Ram

480 GB ADATA SU650 SSD
Nvidia RTX 2080 8GB GDDR6 Graphics
iBUYPOWER Gaming Keyboard
iBuypower RGB 3200 DPI 6 Button Optical Mouse
iBuypower Gaming Mouse Pad
650W Thermaltake Toughpower Grand RGB 80+ Gold Modular PSU
FREE SOFTWARE
Intel Q3 Adobe Creative Bundle
Call Of Duty: Black Ops 4 full game
SUGGESTION: Pick up Octa Core i7-9700K by paying $24 extra
This deal is slightly cheaper than the last iBuypower Deal I have posted but comes with slightly better components. For Power supply, it has the Thermaltake Toughpower 650W 80 Plus Gold Modular PSU and for For motherboard, it has 3 options with the same price. The Asrock model has 10 Phase VRM design and should be good for decent overclocking. Also, these are Z390 chipset based motherboard, especially designed for 9th gen CPUs.
Note: Today there is a $50 discount with any Intel Desktop. Tomorrow the price will be increased by $50, once that offer is gone.