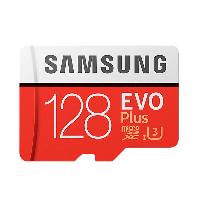 The Samsung MicroSD Memory Card is the best quality MicroSD available and is on sale right now at GearVita. These cards are 128GB for $27.99 and 256GB for $55.99 shipped.
Use coupon code: USCARD128 for 128GB or USCARD256 for 256GB for the deal.
https://gearvita.com/samsung-evo-…-card.html
Product Description:
Extreme Read & Write Speeds
Samsung EVO Plus microSD Card sets the standard for extreme sports & action photography. This Ultra High Speed Class 10 SD card with U3 compatibility, is ideal for 4K UHD video recording & playback. And with blazing-fast read & write speeds of up to 100MB/s & 90MB/s respectively, you can transfer files and shoot photos with minimal lag.
Simple Memory Expansion
Maxing out your smartphone's memory? We've got an easy solution. Simply slide the Samsung memory card into the memory expansion slot in your Android smartphone or action camera and enjoy more 4K UHD video without memory space worries.
4K Ultra HD Video
Capture the moments that matter. With the Samsung EVO Plus microSD Card, you can shoot rich and detailed 4K UHD videos from your smartphone, tablet, or camera and be confident that each memory will be safe. Play your videos back on your 4K UHD TV or monitor and relive the experience as vividly as the day it happened.
Amazing Capacity
Save up to 55,200 photos , up to 33 hours of Full HD video , up to 12 hours of 4K UHD video3 or up to 22,500 songs3 . Download more media files and apps to your smartphone or tablet. And know you've got plenty of space.
Reliability Built to Last
Keep your memories safe. With a 10-year limited warranty, the EVO Plus microSD Card boasts 4-proof protection. That means it can survive up to 72 hours in seawater , endure extreme temperatures , withstand airport X-ray machines and resist a magnetic field equivalent to a high-field MRI scanner.