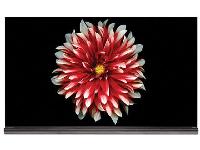 The elegance of glass combines with the unparalleled sophistication of OLED for an image that appears to float in the air.
Picture night skies as dark as night skies themselves. Against the infinite, inky darkness of perfect black, colors pop and images come alive.
Straight from state-of-the-art theaters to the home, Dolby Atmos creates sound that can appear to come from anywhere.
From brilliant brights to deepest darks, LG OLED TV offers the ultimate expression of high dynamic range.
From the front or from the side, every seat in the TV room gets a clear, vibrant picture without washed-out tones.