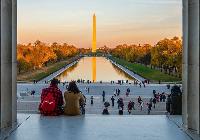 works in reverse
American Airlines have round trip airfares travelling to and from Las Vegas (LAS) and Washington DC (DCA) for $196, nonstop! This is a basic economy fare and on American, you are allowed a carry-on along with a personal item, free of charge.
Travel Availability:
Departs LAS: Nov 10, 23, 28; Dec 4, 8; Jan 16, 23, 29
Departs DCA: Dec 5, 11; Jan 9, 16, 23, 29, 30; Feb 6, 20, 26
Enter travel dates on Expedia and select your fares to book this deal. Bundling hotel with airfare will save money and Expedia can also sell you attraction and sightseeing tour tickets in their "things to do" section.
.