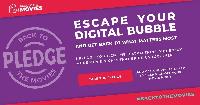 Just received this via email.
Go to http://blog.redbox.com/back-to-mo…he-pledge/
Click 'take the pledge' & enter in your info. You will need to enter a mobile phone # to receive the offer.
You will instantly get a text message with a code that can be used for a free 1-night DVD rental (or you can use it for 50% off a digital rental).
Mine is good on 10/28
Cheers!