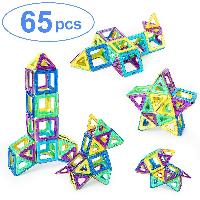 https://www.amazon.com/dp/B01L92O8XW
Use code SLAYUATP.
I bought an off-brand of the popular (and extremely expensive) brand-name version of these. The magnets were weaker, but still did the job and the kids loved them. This brand appears to have stronger magnets. Even our 6-year old is still using them, especially now that our 3-year old has been enjoying them.
This same brand was popular about a year ago at a slightly higher price, so thought this may be good, especially if Christmas shopping starts early for you.