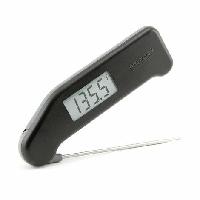 Thermoworks is selling their classic Thermapen for $59. Orders ship for $4.
Normal price is $79.
This is one of the best instant read thermometers made. The Mk4 is the flagship, but it sells for quite a bit more. I think the differences are a backlight and rotating display.
This would be a seriously nice gift for anybody into food, such as bbq, candy making, home brewing, cooking most anything. Anybody making food at commercial or industrial scale should definitely have one.
Back in May, this was a .

2-3 second readings!
High accuracy to ±0.7°F (±0.4°C)
Water-resistant design
°F to °C reconfigurable
Auto on/off—no buttons!
1,500 hour battery life
The Super-Fast Thermapen is a professional tool (originally designed for commercial kitchens, labs and manufacturing plants) that has become the top consumer cooking thermometer for home use. Its popularity among celebrity chefs, cooking magazines, top foodies, bloggers and competition BBQ teams has made the Thermapen into an essential tool in the best-equipped home kitchens and backyard BBQ rigs.