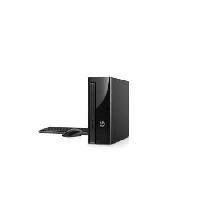 Like many of you, I'm familiar with the various clearance PCs that have been available at Walmart. Today, I stumbled across a slimline desktop that I haven't seen posted her before. While it's too small for a gaming/upgrading, (only has 180w power supply), it would probably be a fine machine for web surfing, email or HTPC duties.
It also includes a wireless kyb and mouse.
MSRP is allegedly $516.00 – There are 6 in stock at various stores near me for $199.
Brickseek link – https://brickseek.com/walmart-inv…=484093489
Walmart (reference only) – https://www.walmart.com/ip/HP-Sli…/484093489
ZIp codes showing several in stock – 75023, 76201
Good luck!