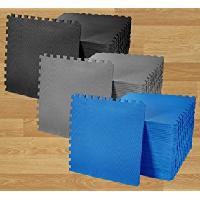 Link Black only at this price.
IN STOCK NOV 4
Lowest price ever by far. I've been watching these for a couple years. I actually bought the same thing two weeks ago for $81 and that was the lowest price ever at that time. Won't ship out for a week, but it will definitely ship.
At this price its even cheaper than Sam's Club and these are far better than those mats.
These are perfect for protecting floors or adding cushion to hard surfaces like the concrete floor of an unfinished basement.