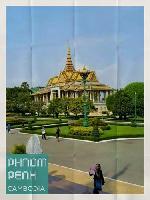 Korean Airlines have round trip airfares travelling from San Francisco (SFO) to Phnom Penh Cambodia (PNH) for $513-$529, making 1 stop in South Korea.
Travel Availability:
Departs SFO: March 2-6, 8-11, 13, 16-19, 24, 26, 31; April 2-4, 7-8, 19, 24, 29-30
Returns: wide and good availability returns, 7 – 14 days turnaround works
To book this, enter travel information on and then select your flights and favorite OTA to book with. For hotels, check out Link Hotwire's Hot Rates hotels or look for latest promotions for Hotels.com
Phnom Penh Travel Guide
.