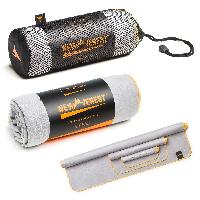 Newverest Microfiber Towel Set, 3 Pack Quick Dry Travel Towels for Sports, Beach, Camping, Gym & More, Super Absorbent, Lightweight & Antibacterial, Fast Drying, Sizes XL, Medium, Small
microfiber
3 Pack Towels: You get 1 jumbo microfiber towel, ideal for gym & beach; 1 large towel, perfect for bath & travel; & 1 smaller one for drying face, hands, etc
Made of brushed, sueded microfiber, these luxury towels feel amazing next to your skin. So soothingly soft you'll wonder where they've been all your life.
More Absorbent; Faster Drying: No more sticky, sweaty feeling. Your Newverest microfiber towels absorb several times their weight in moisture, then quickly wick it away to keep you comfortably dry.
Convenient Storage: Heading to the airport, beach, gym, or yoga studio? Simply pack all 3 lightweight towels in their cinchable carry bag.
Endless Options: Use these lint-free microfiber towels for camp, hiking, pool, spa, hair and more. Unlike other microfiber towels, they'll never streak to your body.
https://www.amazon.com/Newverest-…B07H1XNTCS
Four offers stacked for me on these sets when I purchased 3 or more sets.
I clipped the coupon for 5% off, plus used TOWELS999 for 51% off. The 10% and 15% off applied automatically once I added three sets to the cart. The 5% only applied to the first set, the other discounts applied to all three.