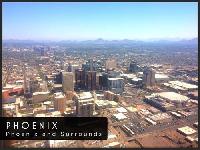 There are a very few round trip combinations you can make here but your other alternative is to grab whatever you can with American Airlines at $83 one-way and then find a flight on another airline, like let's say Frontier Airlines for $44 one-way. These are basic economy fares.
Travel Availability:
Departs PHX: Dec 24; Jan 11, 18
Departs GRR: Jan 7, 14, 21, 28; Feb 4, 11, 18; April 8, 15, 22
My sample travel dates GRR-PHX-GRR, January 7-11, 2019
To book this, enter travel information on and then select your flights and favorite OTA to book with. For hotels, check out Link Hotwire's Hot Rates hotels or look for latest promotions for Hotels.com
Phoenix Travel Guide
.