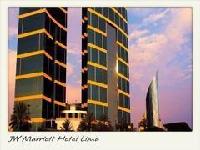 Interjet Airlines, a low-cost budget air carrier and Mexico's third largest airline after Aeroméxico and Volaris, have round trip airfares travelling from New York (JFK) to Lima Peru (LIM) for $366-$386, making 1 stop in Mexico City.
Travel Availability:
Departs JFK: Sept 1-3, 11, 18-23
Returns: Sept 3-10, 18-30
To book this deal, enter travel information on , who will find the lowest possible prices for you. Then select a known and reputable OTA to complete your booking! For hotels, check out Link Hotwire's Hot Rates hotels or look for latest promotions for Hotels.com
Lima Peru Travel Guide
.