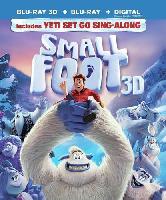 FYE operates on EDT time, so this 31.4% off promo will end at 9PM for those of you who live in the west coast. These are all domestic 3D releases with valid digital copy unlike the import 3D from overseas. Update your profile with BSP 466722791433 for additional 10% off. I'm not going to spend one hour posting links and get 50 thumb downs for the effort. This will probably be the last time I post anything from F.Y.E. because the BSP membership expires in April.
Smallfoot 3D
Fantastic Beasts: The Crimes of Gindelwald 3D
are all priced at $19.75.
I'm also listing the most recent domestic 3D titles, price shown after you have $50 worth of stuff and BSP:
Meg 3D : $18.51
Skyscraper 3D : $15.43
Jurassic World Fallen Kingdom 3D : $12.96
Ready Player One 3D : $15.43
Rampage 3D : $15.43
Pacific Rim Uprising 3D : $12.96
Tomb Raider 3D : $15.43
Justice League 3D : $15.43
Geostorm 3D : $15.43
Blade Runner 2049 3D : $15.43
Sing 3D : $15.43
Wonder Woman 3D : $12.96
Sector 7 3D : $14.19
Note, 31.4% off only works for items that are not on sale. The Grinch 3D is on sale so the discount will not apply.
Effective discount is 38.26% off for everything. There are deals everywhere, too much to list everything. Please share what you bought because others might need it to reach $50. Don't forget there is 3.5% cash back.