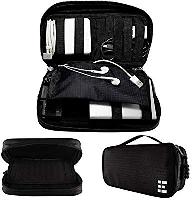 Travel Cord Organizer Bag and Electronics Cable Case For $6 @ Amazon
NO MORE TANGLES, SCRATCHES OR DAMAGE – Fully customizable for electronics and accessory organization. Neatly manage tech, cords, and gadgets in one secure place with this travel cable organizer.
CARRIES YOUR ENTIRE TECH ARSENAL – Perfect for chargers, converters, camera and iphone accessories. Zippered pouch holds smaller memory cards, usb flash drives & More!
BUY NOW WITH CONFIDENCE – 100% LIFETIME MONEY-BACK GUARANTEE
THE LAST TRAVEL ORGANIZER YOU'LL EVER NEED – Functional & extremely durable. Made from a tear and liquid-resistant fabric. WILL NOT fray, rip or break.
UPGRADED FOR TECH TRAVEL – Portable, compact, & ultra-lightweight tech cord organizer. Cord organizer bag easily fits into any laptop bag, backpack, suitcase, or luggage. 100% TSA approved and compliant.
Coupon Code: UUCXMWYK
https://www.amazon.com/Zero-Grid-…way&sr=8-3