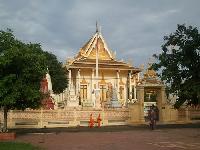 ANA have round trip airfares travelling from New York (JFK) to Phnom Penh Cambodia (PNH) for $511-$520, making 1 stop…and your stopover connection may be at a different airport so you have to be prepared for this, ymmv. This depends on which flight you choose. There may also be some choices of flights making 2 stops. Use filtering option if you don't want to stop twice.
Travel Availability:

Departs JFK: May 9, 15, 16; Sept 26; Oct 3, 10, 24; Nov 21, 28
Returns: May 13, 14, 19, 20; then for Sept Oct & Nov, use 10 or 11-days turnaround
To book this deal, enter travel information on , who will find the lowest possible prices for you. Then select a known and reputable OTA to complete your booking!
Phnom Penh Travel Guide . Want to see more travel deals? Click or .
.