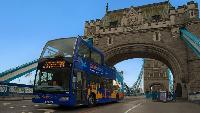 United Airlines have round trip airfares travelling from Denver (DEN) to London (LHR) for $487, nonstop! This is a basic economy fare, a restricted-type fare unless you carry their branded credit card.
Travel Availability:

Departs DEN: Aug 14, 20, 22; Sept 17, 30; Oct 1-3, 7-10, 14-17, 21, 23-24, 28-31; Nov 4-7, 11-14, 18-20, 26-27; Dec 2-5
Returns: wide and good availability returns, generally 7-day stays works best
To book this deal, use the above date and book it directly with United Airlines . For hotels, check out Link Hotwire's Hot Rates hotels or look for latest promotions for Hotels.com
London Travel Guide . Want to see more travel deals? Click or .
.