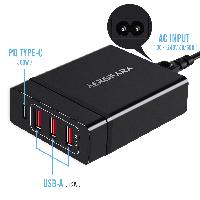 https://smile.amazon.com/dp/B07B4BKB66
Be sure to click the $10 off coupon. Limit 1 per account. $19.90 – $10 = $9.90
1x USB-C port, 60W.
Yes it can charge most of your USB-C laptops.
3x USB-A ports, 12W total.
So if you plug one phone/tablet, it's 5V/2.4A. Two phones, half of that. No it's not QuickCharge 3.0, but it will charge your phones overnight.
Identical to a popular Monoprice version.