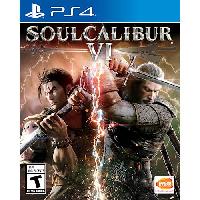 https://www.bestbuy.com/site/soul…Id=6177201
https://www.bestbuy.com/site/soulcalibur-vi-xbox-one/6177202.p?skuId=6177202?
Price is $19.99 or $15.99 if you still have GCU. Also includes a Talim Mini Figurine.
Seek out the legendary Soul Warriors and battle foes with SOULCALIBUR VI for Xbox One. This head-to-head battle game features dynamic 3-D models for an immersive playing experience, while a variety of characters and weapons lets you choose who you want to be in the game. Featuring fierce fights and challenging levels, SOULCALIBUR VI for Xbox One takes you on an immersive adventure with each gaming session.
Bandai Namco Games – Soul Calibur VI Talim Mini Figurine – Green/Red/White/Brown
Get an exclusive Talim figurine when you pre-order Soul Calibur VI. Standing at 3.5 inches tall, the exquisitely detailed figurine brings the fan-favorite character into the real world as a perfect addition to a collection. This exclusive Talim figurine features a faithfully reproduced costume and color scheme for a truly authentic look.