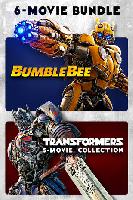 https://www.fandangonow.com/detai…B5BF3DB6FD
Get the brand new 6-Movie Collection including Bumblebee and all 5 Transformers films. Bumblebee: On a mission to protect Earth, the battle-scarred robot teams up with teenager Charlie Watson to stop the Decepticons in this action-packed adventure! Plus, from visionary director Michael Bay and legendary producer Steven Spielberg comes Transformers 1-5. Included in this bundle:
Transformers [1] (2007)
Transformers: Revenge of the Fallen [2] (2009)
Transformers: Dark of the Moon [3] (2011)
Transformers: Age of Extinction [4] (2014)
Transformers: The Last Knight [5] (2017)
Bumblebee [6] (2018)
4K UHD version: $24.99, also available: HD bundle $19.99.
Transformers 1-5 are UV titles and will transfer to connected services, however Bumblebee is not.